The #1 tool in our toolbox is
the Ai Design studio itself,
an impeccable space designed
for optimal functionality
and efficiency.
The #1 tool in our
toolbox is the
Ai Design studio itself,
an impeccable space
designed for optimal
functionality and
efficiency.

Our Studio
The Ai Design studio is an exceptionally constructed tool in and of itself. Our most powerful apparatus, it offers superior lighting, storage, organization, utility, and space, to facilitate every project from start to finish.
Our studio handles three crucial functions. The first is great storage – layers of it, compartments of it, oodles of it. This is critical. Proper storage allows for free-flowing work and saves time. Great amounts of material are handled to do our work. These must be sorted, organized, dispensed, stored, retrieved, and used every day, all day. These are big parts, small parts, tiny parts, heavy parts, delicate parts, parts we may not need for another two months, the cars themselves, even the trash!
Effective storage frees our staff to concentrate fully on the work. Effective storage must be designed. We use myriad specialty cabinets, shelves, dispensers, benches, and bins, some mobile, some placed in time-proven locations; many are custom-made to acutely address a unique need.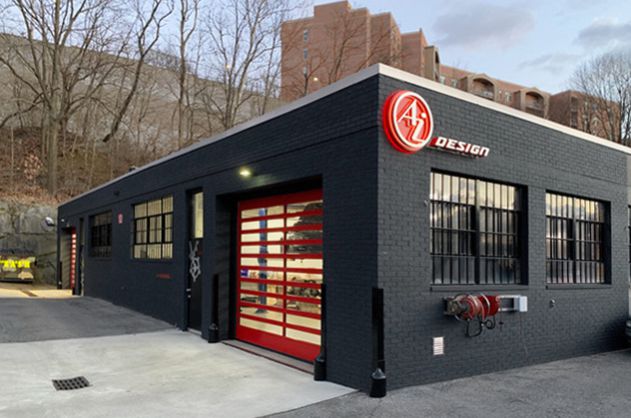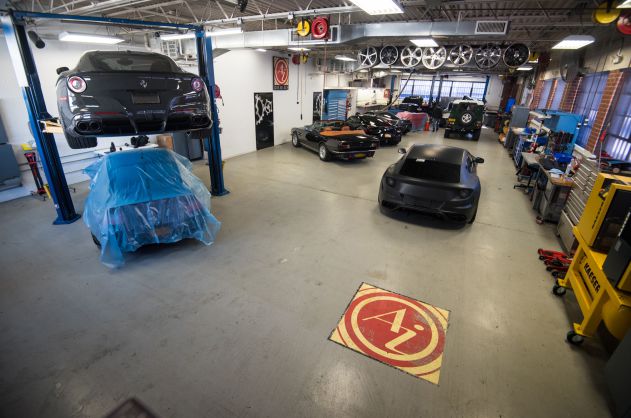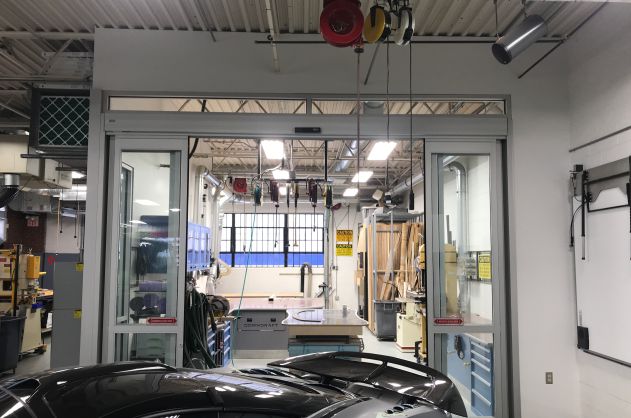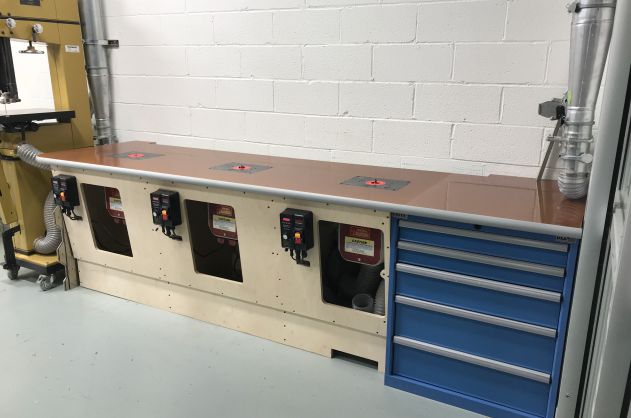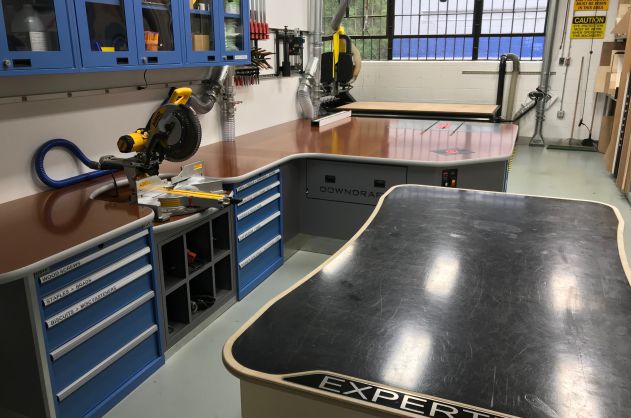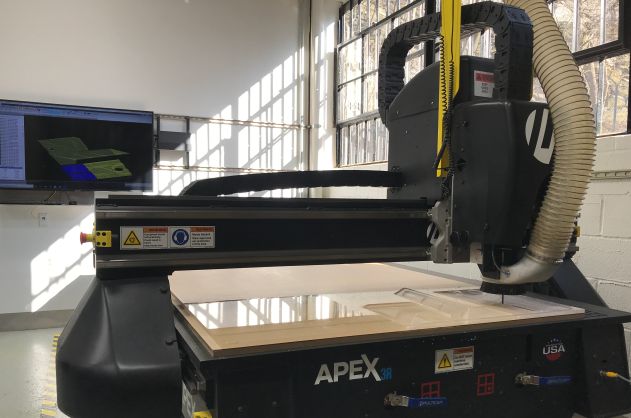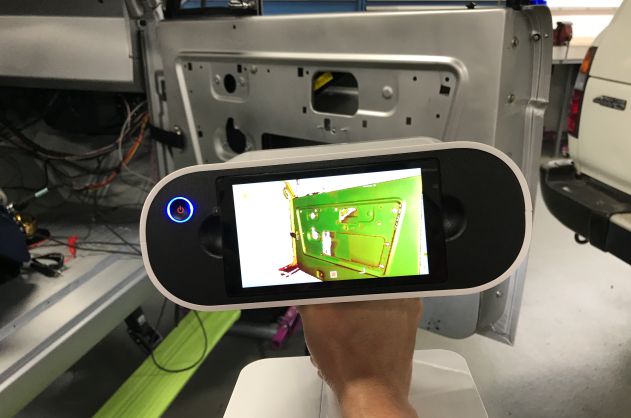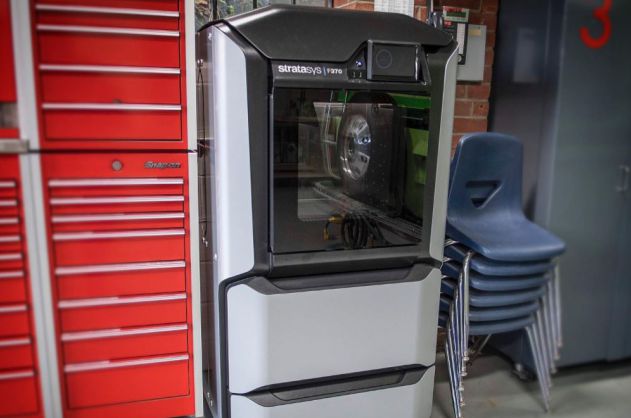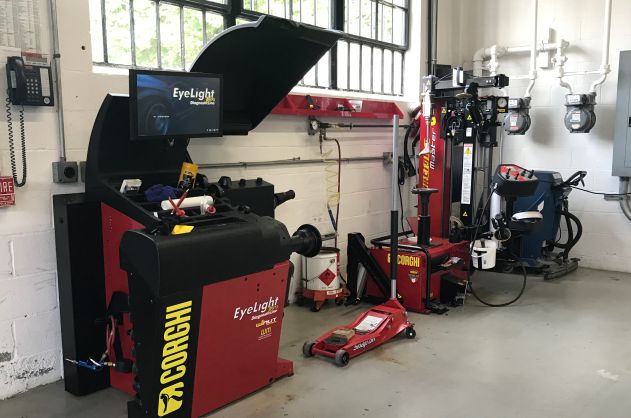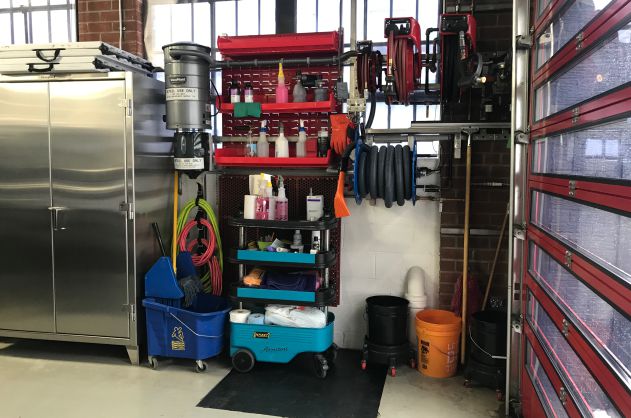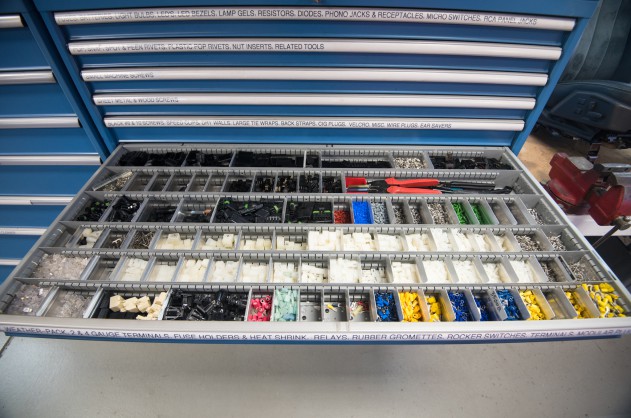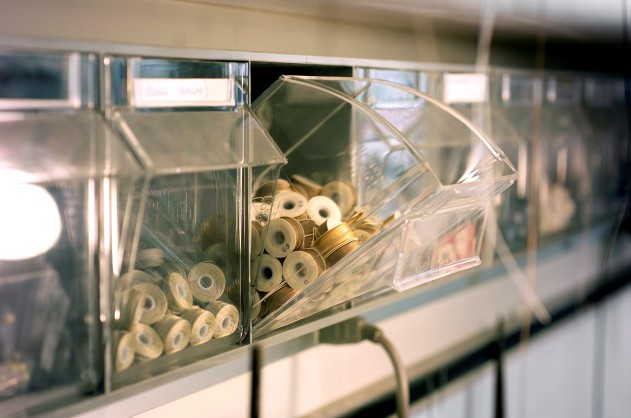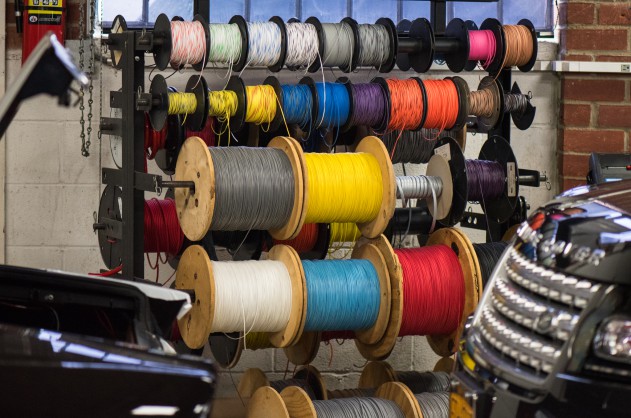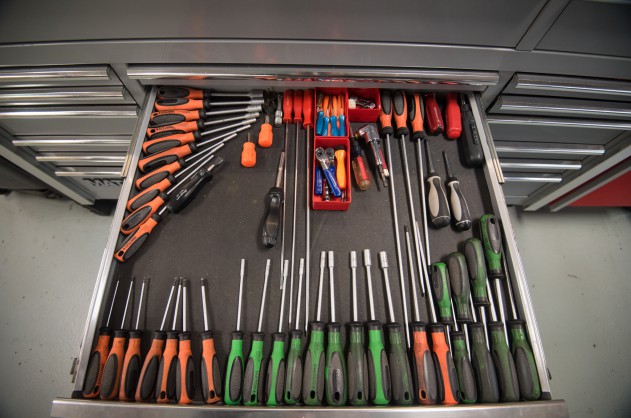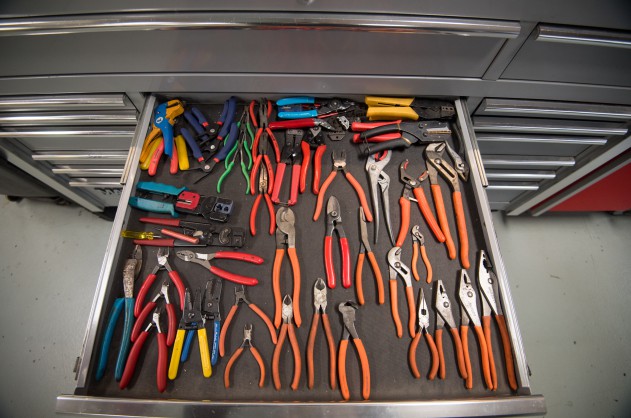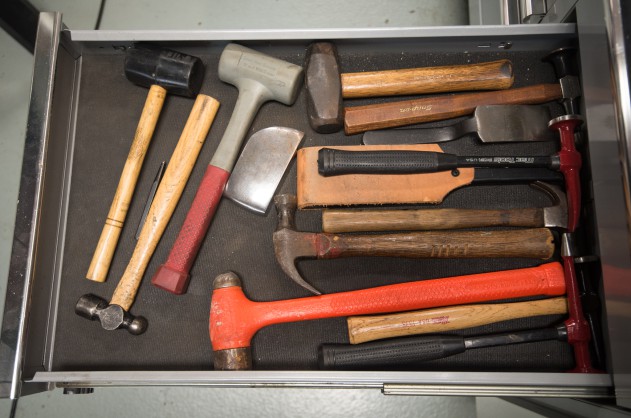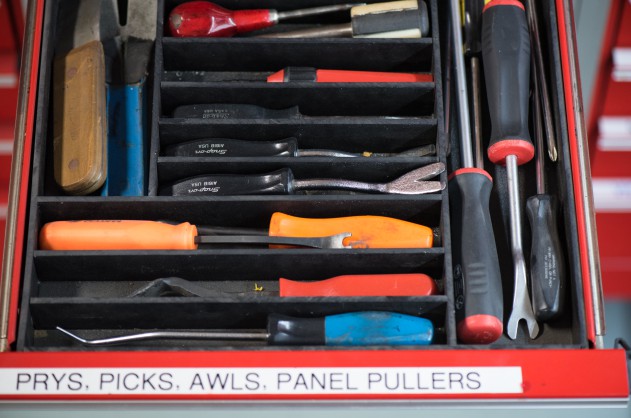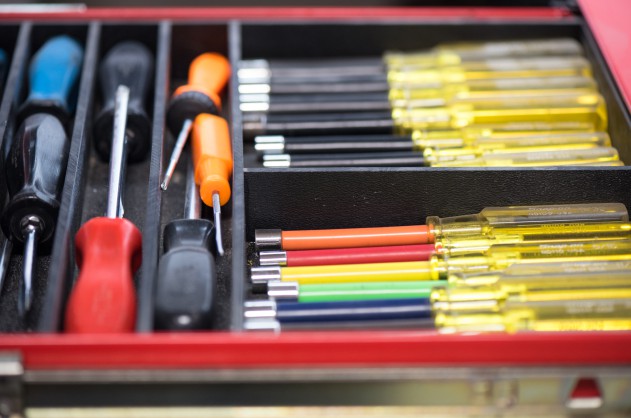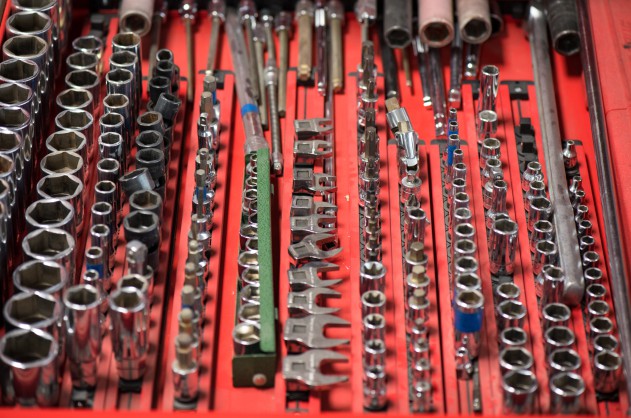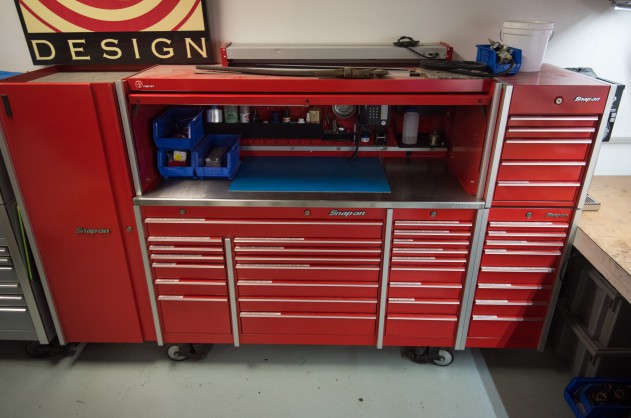 Some of our highly functional storage
The second vital function is great utility – power, compressed air, water, heat/AC, & light. Walk into Ai Design and one immediately sees how well-lit it is. Bright, evenly distributed light is essential for our work. Power and compressed air lines are overhead, throughout the shop, and all workbenches are supported by strips of outlets. Heated in the winter and air-conditioned in the summer, the studio is comfortable, so work progresses at our preferred pace, with greater quality and focus.
The third principal function is great space. Our work must be done ergonomically, comfortably, and above all, safely. We have ample and well-placed bench space everywhere. Insufficient floor space could crowd staff, material and the precious cars. We have proper set-backs, aisles, procedures and placement of objects to achieve a smartly set-up floor plan. Under heavy load, everyone buzzing, the space itself contributes to peak performance, which translates directly into our work product.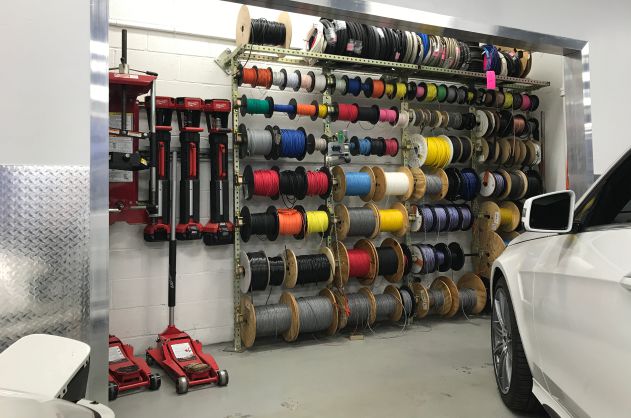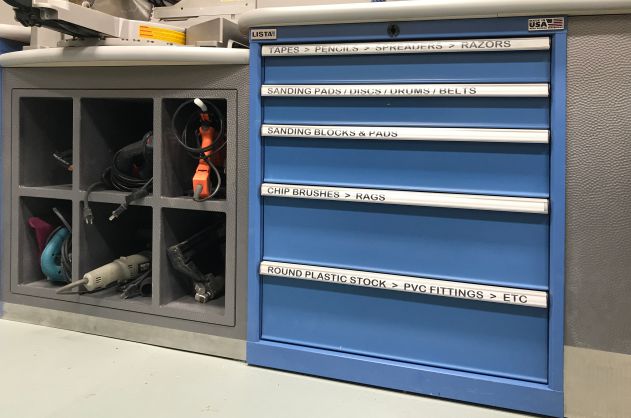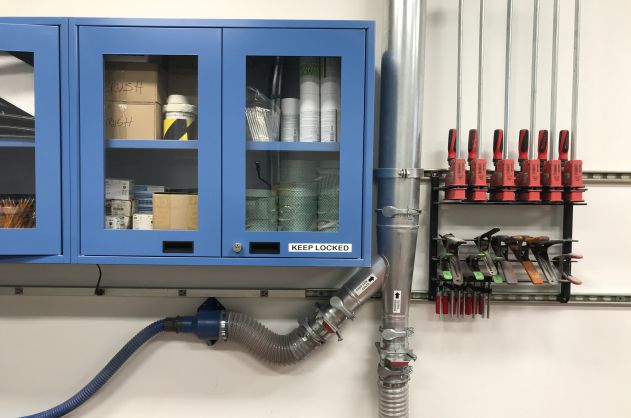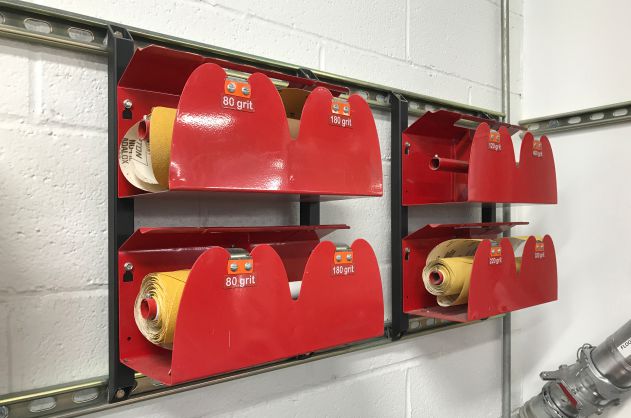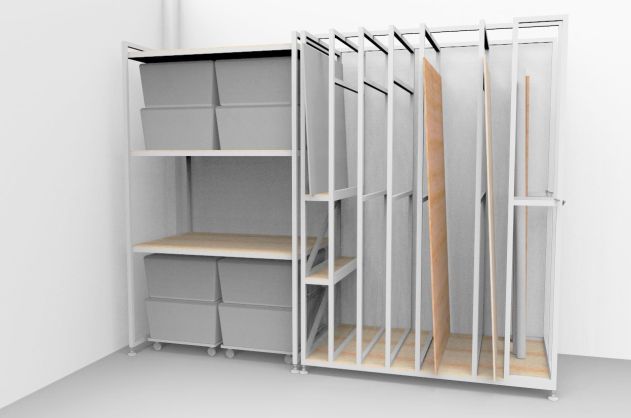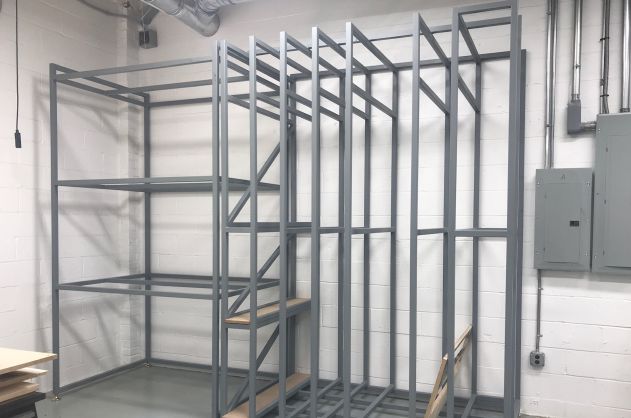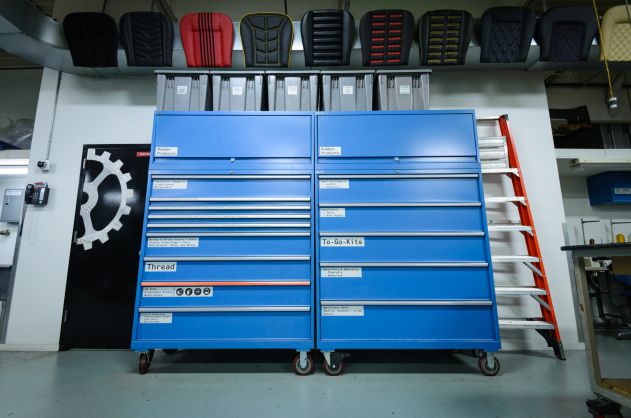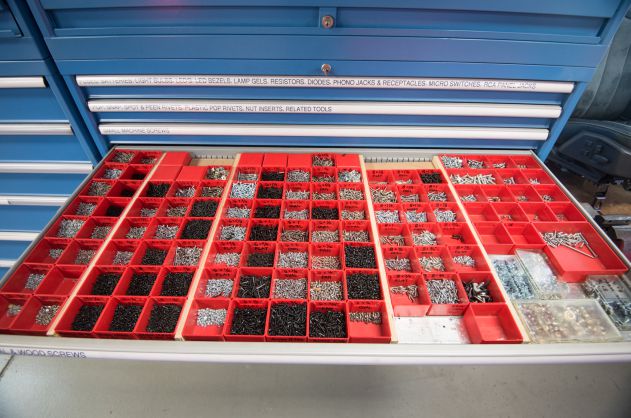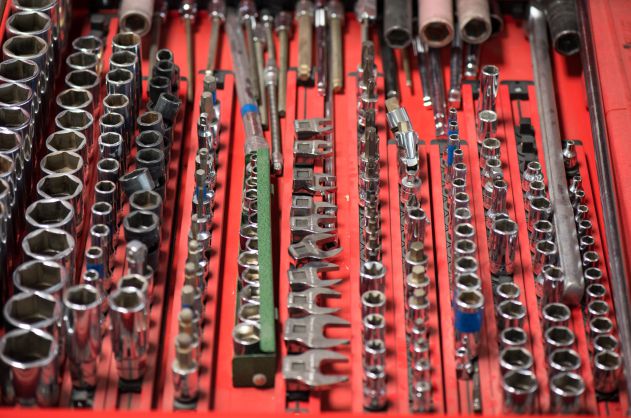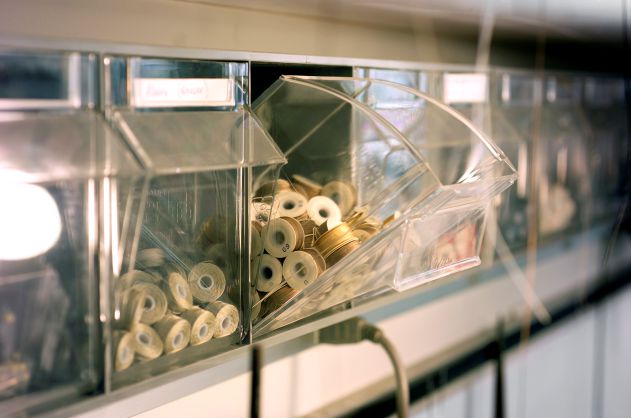 Project Staging
Within this highly effective arena, we also stage each project for maximum productivity.
When we begin a project, we stage the work area. First, we determine the precise location for any new vehicle within our studio – some may simply be parked for the work required while others may live on a lift or be blocked on cribbing or jack stands. In some cases we'll design and fabricate specialized jack stands in steel, particularly for vehicles like Porsche's 918 and Carrera GT, and various McLarens, which require specific jack points to position them securely.
Depending on the scope and duration of a project, once the vehicle has been washed and inspected, we often apply protection to painted surfaces and delicate areas. Special plastics, tapes, foams, and quilted blankets are used for coverage.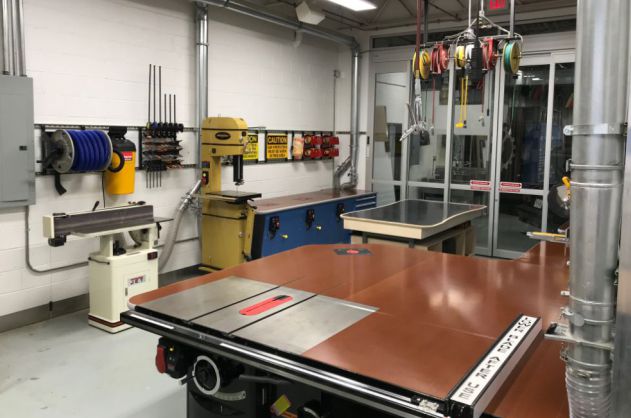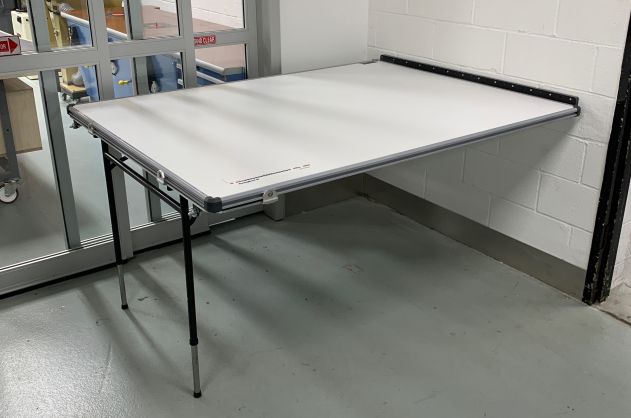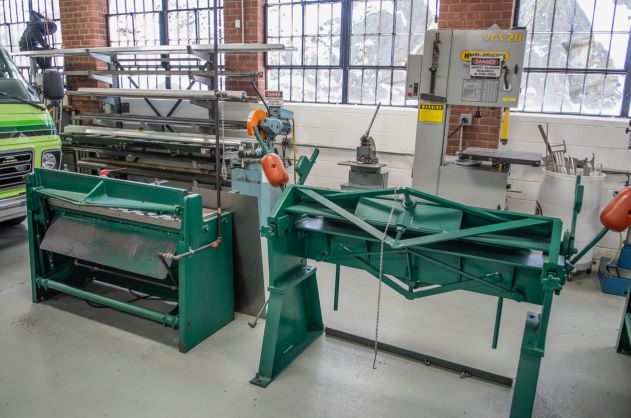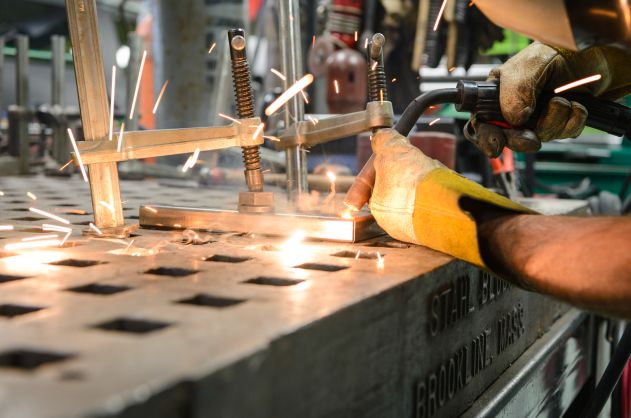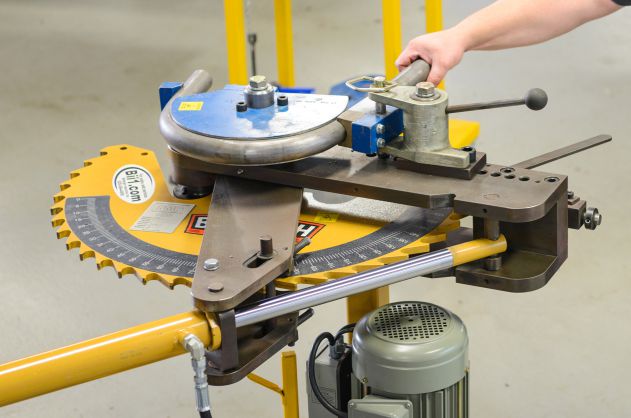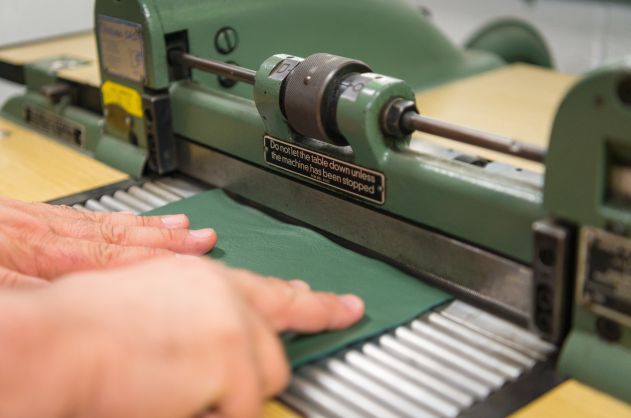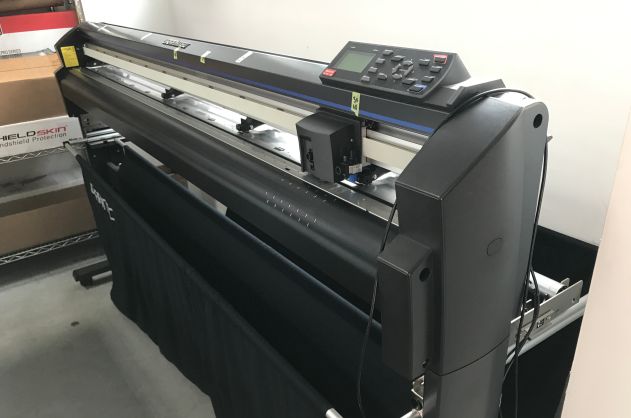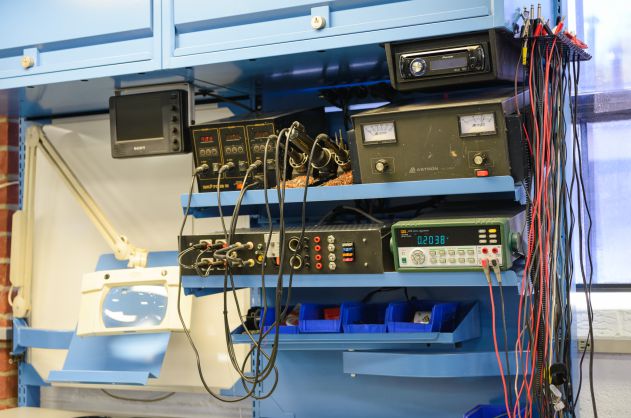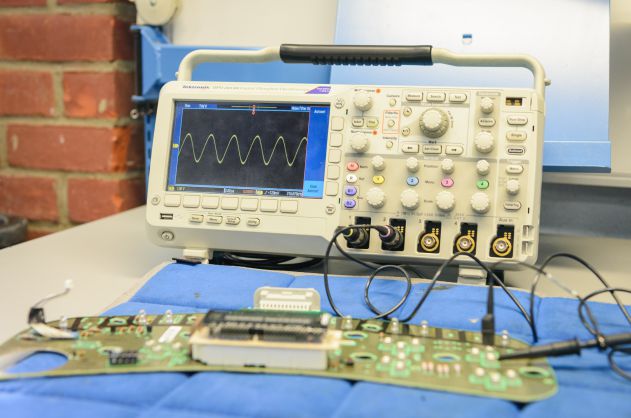 Project staging: customized stands & coverings
Also depending on the scope of a project, some disassembly may be performed. Any removed parts and client belongings are carefully packed and safely stored away.
Materials for the project are gathered and situated at the project site bench and shelving area. Part bins are labeled, and administrative documentation for the project is posted accordingly at the site. Batteries are tended or disconnected. We may use trickle chargers to avoid battery drain. We'll use a laser level to ensure all components will be level with the road, and we'll often install live tools like easy-access light switches.
By foreseeing and removing potential inefficiencies, we streamline our process for safety and efficiency, saving time and money for our clients.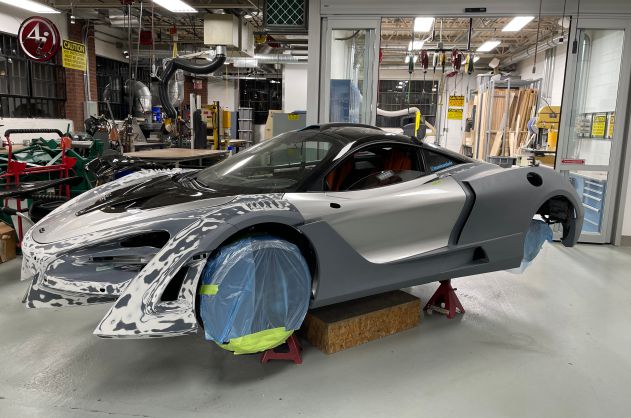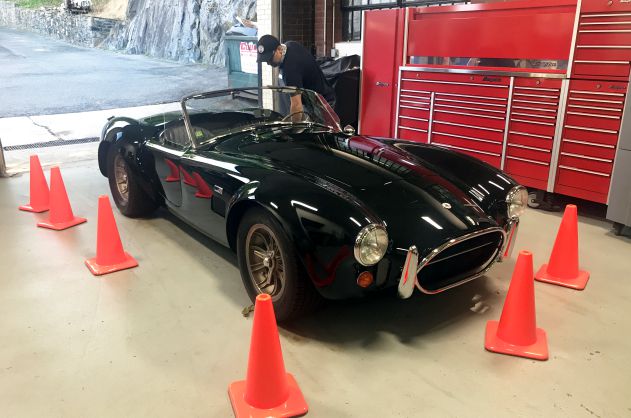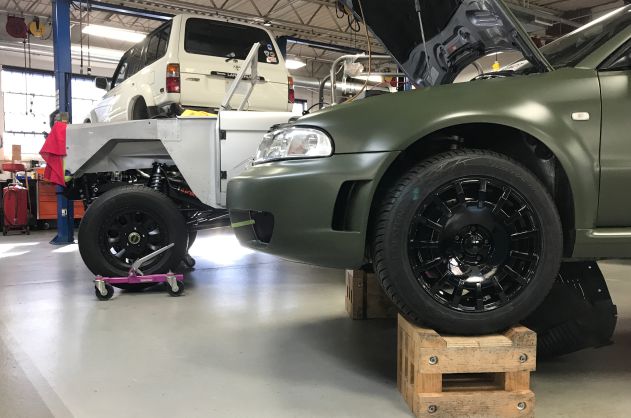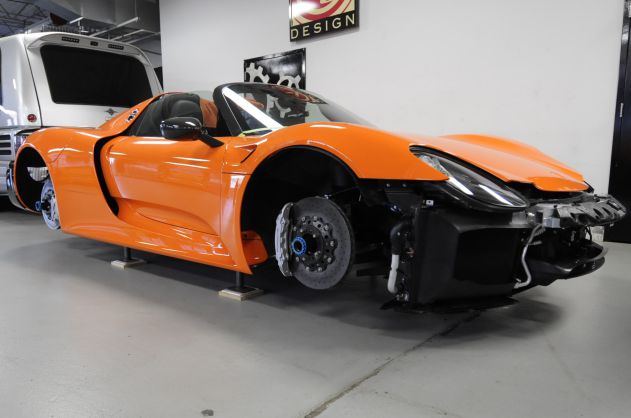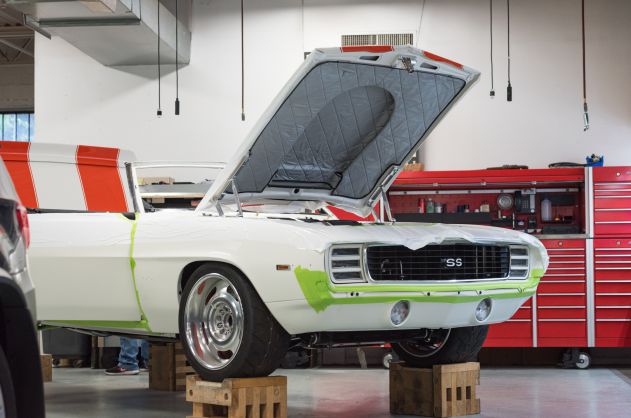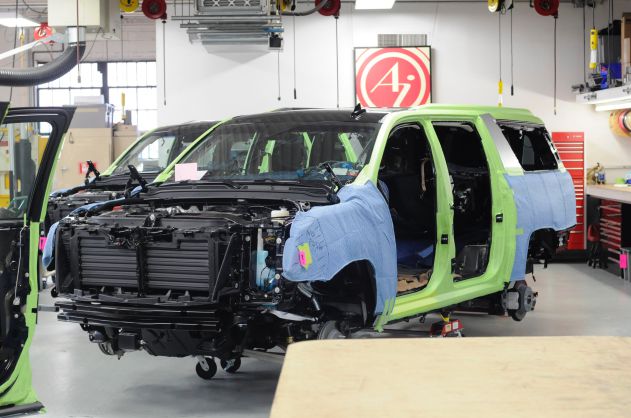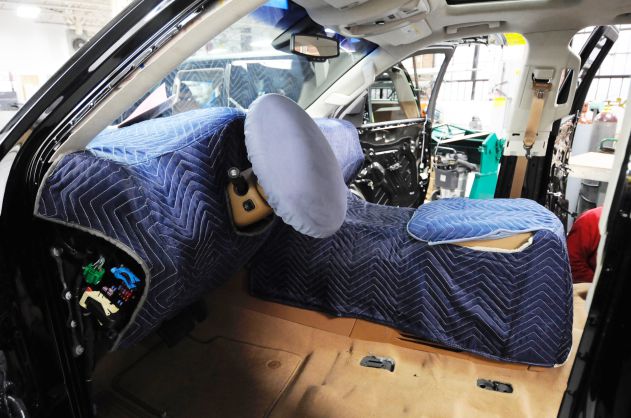 Tools like lighting, power, storage, signage
Our Tools
Once each project is under way, our meticulously-designed studio and logically-staged work sites also offer highly organized storage for our extensive arsenal of tools.
Every craftsman benefits from a robust toolbox to achieve mastery of technique and superlative results. Our multi-faceted team employs an exhaustive range of tools to handle virtually any task, which sometimes requires inventing a new tool for the task at hand. For example, we have to scribe and trace many parts. Sometimes there is no way to position a scribe or pencil in the place where you want to put down the line. Years ago, Matt started making custom shaped pencils. He would cut them up, miter them, and glue them together in the shape required to fit where they were needed. Today, everyone in the studio has several of these in their tool boxes. It is common to see a staff member cutting his pencil point off and gluing it into a new position or angle to crane it into an impossible location.
From customized tools and jigs to the unique custom-fabricated solutions we deliver in our projects, this overarching ethos of problem-solving is a key factor in our design process and capabilities.