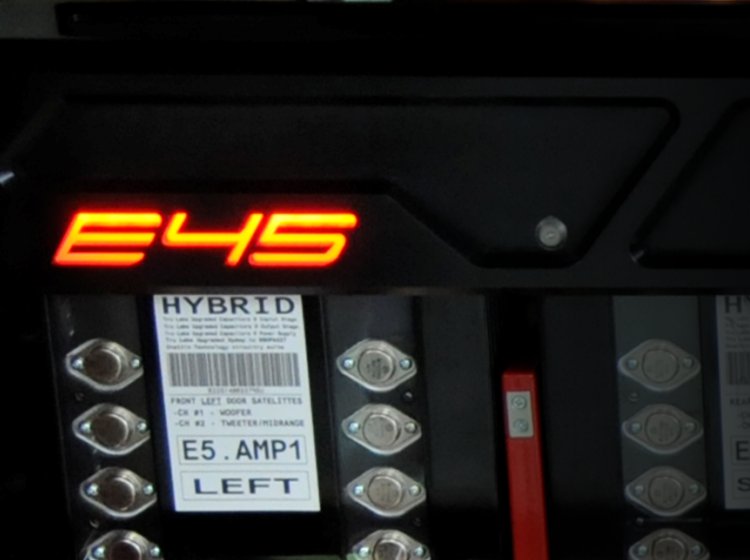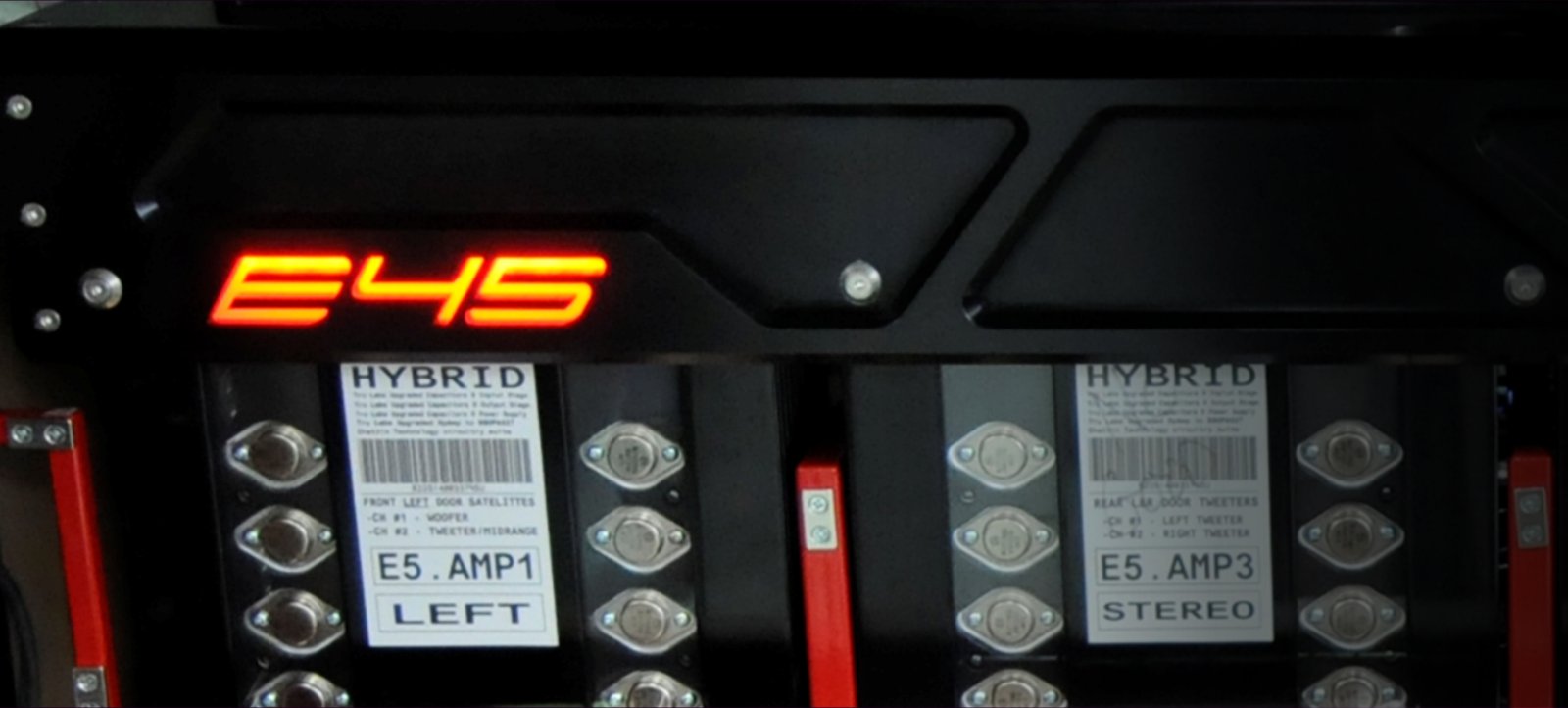 Our E45 project involved a complete overhaul of two Cadillac Escalades, requiring countless parts, extensive planning, and months of choreography.

This was one of the biggest and most challenging projects we've ever undertaken. Massive in scope, we credit its success to a rigorous design-thinking process, a collaborative and masterful team, and an impeccable work methodology.
The E45 project actually began with the research and development of an earlier project, E12, for the same client. Project E12's final delivered version was the backbone for the audio system in E45. (Incidentally, these projects are named for the vehicles involved in each: the client's Escalades #1 and #2 were the vehicles for Project E12, and Escalades #4 and #5 for Project E45.)
For both E12 and E45's audio systems, the client's top priority was, first and foremost, to be the very best mobile audio system and experience, with an emphasis on digital music. He chose Spotify as the primary media standard, incorporating the very useful Spotify Connect feature. The client was keenly aware that Spotify was not the highest-resolution music choice available, but he knew it would be the most convenient user interface for accessing and sharing his music. He was also bent on demonstrating that Spotify's music files could sound amazing if worked through the right type of audio system.
The client's secondary (non-audio) design mandates were: extreme noise-dampening, lush seating and upholstery with tight sew-work, and no partition – full OEM second-row bucket chair conversion, with all rear seating rows moved back the max amount. He wanted lux integrated appointments: vanity mirrors, cup holders, power ports, lighting, armrests, audio system volume controls at each seat, passenger front seat controls for the VIP at the right rear seat, and various consoles. Additionally, he requested emergency response lighting, PA, fire suppression, powerful VPN WIFI, full Callaway performance upgrade to motor, suspension and brakes, and custom badging and naming on the iPad Pro wallpapers and Escalade exteriors.
When E12 was completed, delivered and in-service, there were still several months to wait for the new Escalades for E45. Despite this, E45 work proceeded full bore. Key audio equipment was spec'd and ordered – no small task, as nearly all of it was either fully custom-made or bench-modified by the manufacturer specifically for E45. This required massive effort, persuasion, and organization to pull off: submitting proper purchasing documents, initiating detailed discussions with vendors, and in some cases providing custom drawings. Various secondary equipment was ordered as well, such as radar detection systems, fire extinguishers, emergency response gear, lighting, modules, interfaces, power distribution gear, high-power alternators, specialized lossless battery isolators, etc. In addition, there were several design and staging-related tasks to be done during this time:
One of the most crucial diagrams developed for E45 was our Audio System Design Schematic. (Click here to view it larger, and the next series of images will also describe it in more detail.) This overview would be our playbook, so it needed to be exhaustively thought out, with every element taken into consideration.
If you look at a terrific home audio loudspeaker, grills off, you essentially see a box with speakers in it. If you look at any car audio speaker, interior door trim off, you see a speaker on a many-holed piece of door sheet metal. A home loudspeaker's cabinets are highly engineered to be incredibly rigid, heavy, and sonically 'dead' so they don't vibrate in response to the speaker vibrating. This is crucial because secondary vibrations can cancel a measure of the primary vibrations, resulting in lost, corrupted, or distorted information for the listener. This may be the most important manifestation to mitigate in any loudspeaker design.
Inside the home loudspeaker cabinet, chambers with carefully measured air volumes are assigned to different speaker types. Air volume dampens the movement of speakers, just as shock absorbers dampen the movement of springs in your car. Lower-frequency-range drivers generally require more air volume, while higher-ranging drivers use less. For most tweeters, which require far less air volume, their chamber is actually attached to the back of the driver itself. One other decision for the sound engineer is whether or not to make the air volumes sealed or vented. Properly tuned vented chambers allow a speaker to play low frequencies louder and to handle more input from the power amplifier. This can also be referred to as an acoustical amplifier which can be 'tuned' by the sizing of the port (vent) length and port mouth surface area in relation to the air volumes and drivers being used – physics and math. These are the key factors of loudspeaker design to reproduce audio faithfully.
This next series of photos shows our process for the design of E45's elaborate AC and DC power supplies which are nearly exclusively for the audio system.
The following photos show more of our design and fabrication processes, starting with the extensive overhaul of the rear and cargo areas to accommodate a customized recess for our subwoofer housing and under-seat compartments for the NAIM NDS described earlier.
Another major area of custom fabrication was the rear side panels. These were completely redesigned to accommodate E45's amazing audio system. This required extensive construction and design. We followed the original Cadillac OEM look and feel to inform our contouring of the coach work and paneling, as well as the trim work and upholstery, for a seamless result.
These next photos show some additional important interior elements: the D-Pillar speakers, the modified and re-upholstered ceiling, and the seating with integrated iPad Pros.
This final series of photos shows a few more of the cleverly integrated user controls, and a few additional shots of the finished vehicles.
Another video about E45, produced by The Drive, can be viewed via our Press & Testimonials page. And if you'd like to explore our E45 User Manual, it can be viewed here.